Hello, welcome to the official website of Yunnan Shangri-La Balagezong Tourism Development Co., Ltd!



---
Pile Embroidery -- The Art of Relief on Rags
---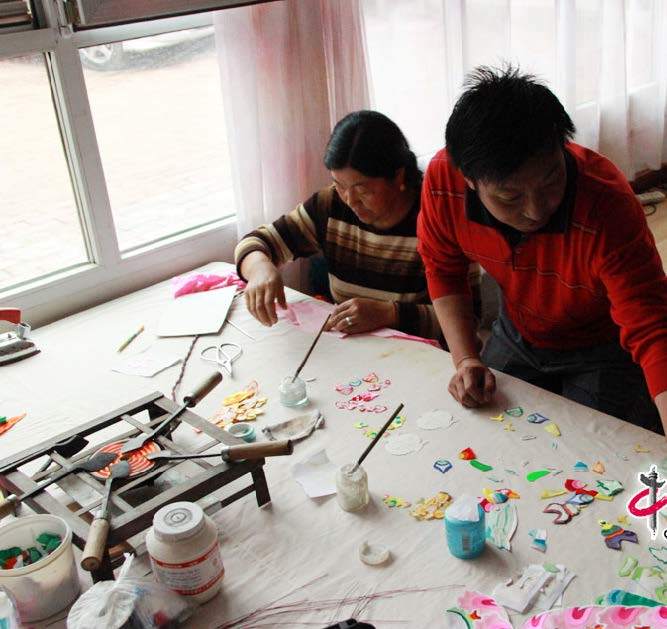 Huan Gong (middle), a master of pile embroidery, is making pile embroidery with his teachers and apprentices (China Netshi Yuxin Photography)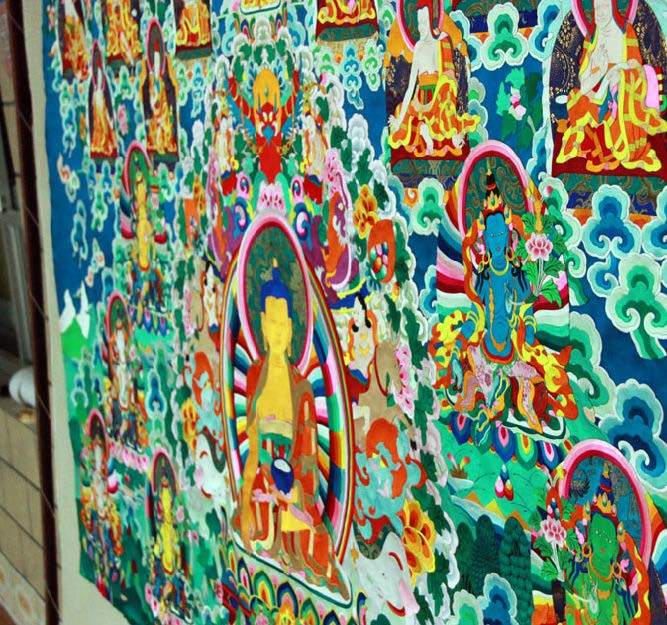 Works by Huan Gong, Master of Dui Embroidery (Photography by Yuxin, China Net Stone)

China Net, September 7 (Reporter Shi Yuxin) In a quiet Tibetan-style house, embroidery master Huan Gongzheng and his apprentices gathered around a small stove and carefully cut pieces of broken cloth with scissors. After careful placement, a picture The vivid cloth painting leapt onto the paper.
Thangka made of satin
In the art vocational training school of Huangong Regong Tongren in Huangnan Prefecture, Huan Gong showed his pile embroidery and told the story of his connection with pile embroidery fabric. In his more than 30 years of artistic career, Huan Gong has created more than 2000 exquisite and lifelike pile embroidery works, with prices ranging from thousands to hundreds of thousands.
The reporter learned that the pile embroidery with Buddhist paintings as the main content is made of various colors of cotton, silk, and satin cut into various patterns and shapes designed, carefully piled into a complete picture, and then embroidered with colored threads. In Tibetan, pile embroidery is called "Guitang", which means a thangka made of silk and satin. It uses a clever combination of relief and embroidery to carefully cut, carefully ironed and pasted and spliced the gorgeous colorful silk and satin, resulting in Buddhist works of art with exquisite workmanship, gorgeous colors and strong artistic appeal. In a broad sense, pile embroidery belongs to a kind of thangka.
"Making pile embroidery is a delicate job"
It is reported that the process of pile embroidery generally includes pattern design, tailoring, stacking, embroidery, and coloring of individual pattern parts. Among them, drawing this process requires five or six years of learning. Huan Gong told reporters that making pile-up embroidery is a delicate job. First, a pattern should be drawn on the base cloth. Then, according to the drawn pattern, the materials should be selected and cut, and the pile should be made according to 1.1 points of the overall composition. Finally, and then paste latex, ironing stereotypes. It is understood that the cheapest pile embroidery on the market can also be sold for 700 or 800 yuan.
Huan Gong said that it is very difficult to start a large pile of embroidery works, which requires a painter to have a deep foundation. The painter should draw a large picture of several hundred square meters on dozens or even hundreds of sheets of paper through calculation according to the "statue measurement classics", and then make collages one by one to make it seamless. One of Huan Gong's more proud works was completed by three people after four months of hard work.
"I hope the pile embroidery can be passed on"
Huan Gong began to take apprentices when he was 20 years old. The apprentices studied and worked here and got the corresponding remuneration. Most of the more than 30 apprentices were from their own village. Huan Gong felt that they were young, but they wasted all their time except farming. It was a pity, so he decided to teach more people some skills as much as he could. When the reporter asked Huan Gong if he was worried about the church apprentice starving to death, Huan Gong smiled faintly, "I hope the embroidery can be passed on, and the market is so large, there are many orders every year, so I never worry."
Huan Gong and other old artists taught by mouth and taught their pile embroidery skills to the art-loving youth in the village, making pile embroidery the main sideline of most farmers in the village, and making Nianduhu Village in Tongren County, Huangnan Prefecture a well-known Regong "pile embroidery village". The art of pile embroidery also showed unprecedented prosperity, and people's lives have undergone earth-shaking changes due to pile embroidery. Now artists who like pile embroidery are thriving in batches. The ancient pile embroidery art has a successor and hopes to be passed on from generation to generation.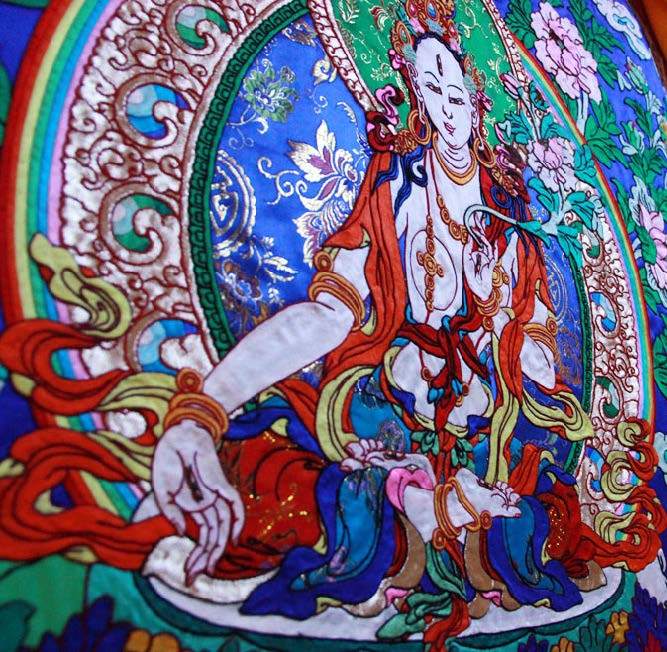 Works by Huan Gong, Master of Dui Embroidery (Photography by Yuxin, China Net Stone)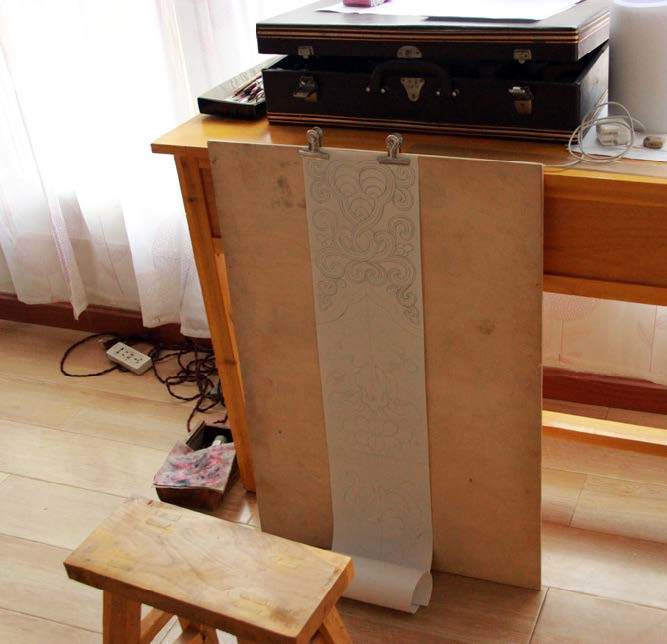 Pile embroidery drawing (China net stone Yuxin photography)


The pile embroidery artist is in the process of sticking and cutting (China Netshi Yuxin Photography)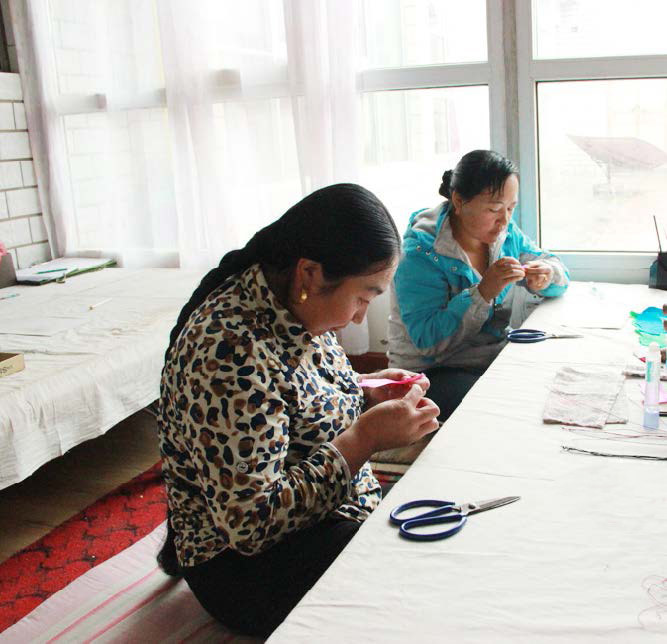 Embroidery Artist Sticking and Cutting Broken Cloth (Photography by Yuxin, China Net Stone)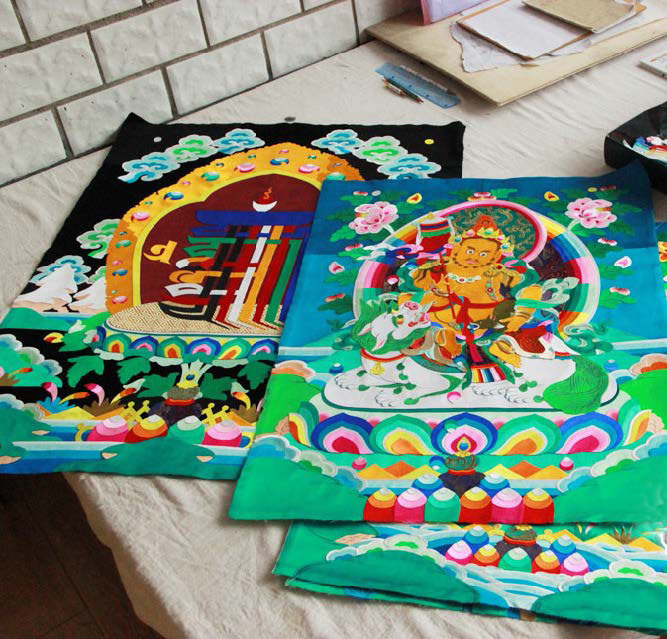 Stacked Embroidery Works (China Netstone Yuxin Photography)