Hello, welcome to the official website of Yunnan Shangri-La Balagezong Tourism Development Co., Ltd!





---
---
Amdo Tibetan Costume (Group Picture)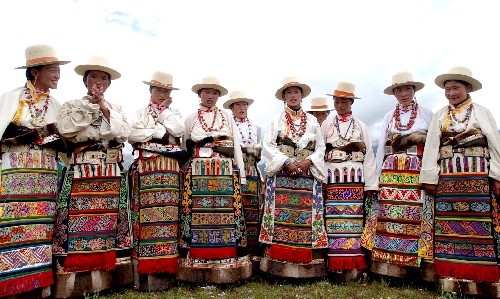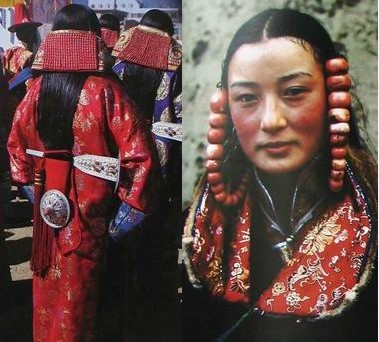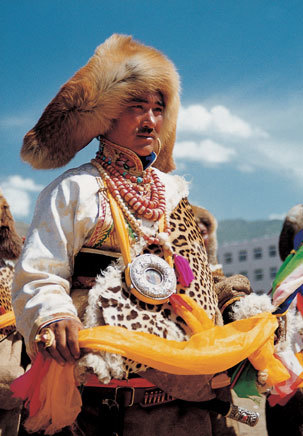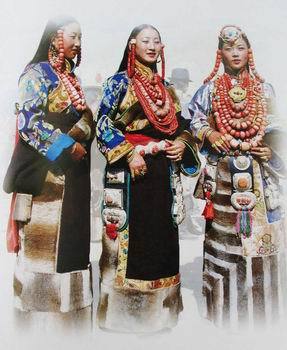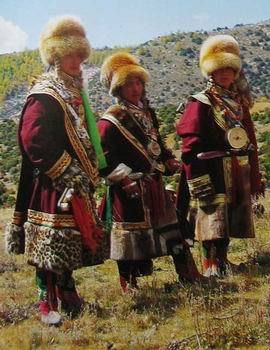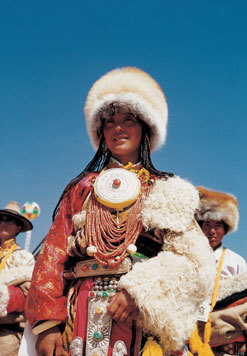 The costumes of the Amdo Tibetans can be roughly divided into Tibetan tunics, lambskin gowns, sheepskin gowns, wool gowns and single-coat gowns.
The Tibetan gown of Tibet belongs to wool fabric, which is produced in all Tibetan areas, but the Tibet Tibet around Lhasa is more famous. Because of the quality of wool, textile techniques and dyes, the grade of Tibetan robes is also very different. In the old days, nobles and lords wore it for important activities, and poor farmers and herdsmen also wore it for grazing and working in the fields. The Tibetan robes here are mostly crimson, with delicate texture, soft hand feeling and strong warmth retention. New or superior Tibetan robes can also be used as raincoats. The Tibetan robe is strong and durable and can be worn all year round.
Lamb leather gown for lamb leather processing products, plus fabric sewn, mostly as a dress. According to their different colors, they are divided into white lambskin robes and black lambskin robes. Now the black lambskin robes are regarded as precious robes. Lambskin robes are divided into several grades according to the length of the hair, the degree of curl and the quality of the leather. The robes made are mostly of the same grade. A medium lambskin Tibetan robe is generally made of more than 40 lambskin.
Sheepskin robes can be divided into two kinds of goat skin robes and sheep skin robes. Women in rural areas wear goat skin robes, which are suitable for cutting, light weight, soft and beautiful. Sheepskins are divided into winter, summer and autumn sheepskins because of different seasons and cortex. Sheepskin Tibetan robes are leather products commonly worn in Tibetan areas. When making robes, the leather processing procedures are very exquisite, and the methods are also different. Among them, the leather dug from the raw is the most flexible, abrasion-resistant and can be used as raincoats. It is one of the most attractive leather robes.
Wool gowns, such as cotton-padded clothes in the north of the mainland, are only changed from cotton to wool and short to long gowns. Therefore, gowns made of sheep wool sandwich are made in the same way. It is characterized by wearing light, warm, and moving freely.
Single gown gown is mainly popular in agricultural areas with low altitude and warm climate. It is characterized by cool, loose and comfortable, natural and graceful, and the difference between the old gown in the mainland is only different in style. Wear it to show the masculinity of men and the delicate beauty of women.
The shirt is the embellishment of the Tibetan robe, divided into a large lapel and a pair of lapels. Material and color according to individual preferences, traditional silk products and cotton products. Those who use orange and light yellow as their shirts are mostly monks or Buddhists. There are various styles, including flat collar and stand collar. The collar column is divided into single buckle, double buckle or three-row buckle. It is decorated with dark banding and is quite gorgeous with animal leather trim.
A dazzling array of accessories
The preference for accessories has a lot to do with people's age, gender, status and hobbies, aesthetics, etc. There are many kinds of accessories, which can be said to be dazzling and everywhere. There are mainly head braid ornaments, item chest ornaments, finger wrist ornaments, robe trim, waist ornaments and so on.