---
Great kindness and great virtue will always be in the hearts of the people.
---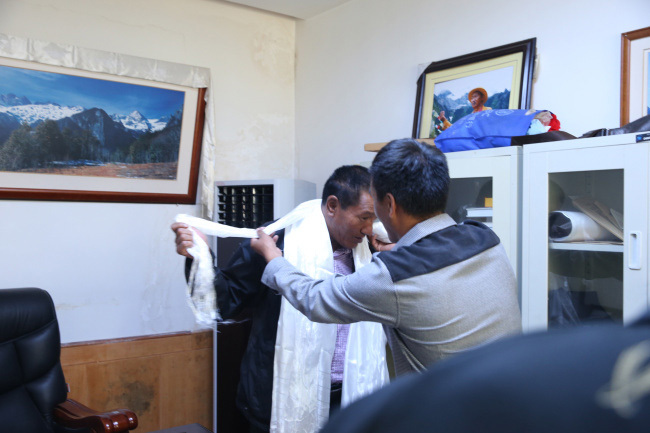 In order to thank General Manager Snatinzhu for his selfless help in times of crisis, representatives of Barra Village villagers came to the headquarters office of Barragzong Scenic Area on September 15, 2013 to express their sincere thanks. A white hada was presented to the general manager of Sna Dingzhu, and a banner with the words "natural disasters are merciless, great love is boundless, great kindness is great, and the hearts of the people will stay forever" was sent to the general manager of Sna Dingzhu.
We firmly believe that with the fearless momentum and kindness of General Manager Snatingzhu, with the joint efforts of all employees of Balagzon, with the help of caring people from all walks of life, units at all levels and the government, Balagzon will surely overcome the sudden disaster brought about by this earthquake and build a beautiful home together!
Sna Dingzhu, Balagzong Scenic Area
Hello!
Thank you for visiting the official website of Balagezong. If you have any cooperation intention or suggestion, please contact us through the following ways, we will reply as soon as possible, thank you!

WeChat

Wechat Video

TikTok
©2023 Yunnan Wenchan Shangri-La Balagezong Tourism Development Co., Ltd. All Rights Reserved.
SAF Coolest v1.3 设置面板
BMSSX-ZJWJ-FDZWE-ZWA
SVG图标库
请自行添加图标,用div包起来,并命名使用